Sussex Police could shut stations and cut opening hours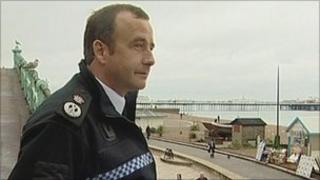 Sussex Police is considering closing some police stations and reducing the opening hours of others as part of cost-cutting measures.
The proposals are part of the force's bid to save £50m by 2015.
A spokesman said it could save £2m a year by reducing the opening hours of front offices in less busy stations.
Chief Constable Martin Richards has previously announced plans to cut up to 1,050 police officers and staff over the next five years.
The force has also frozen the recruitment of police community support officers.
A spokesman said the force's priority would be to protect neighbourhood policing and not "let the service to the public suffer".
Mr Richards said: "It makes sense to reduce the opening hours at stations that receive only one or two visitors an hour.
'Cheaper alternatives'
"This money would be better spent on neighbourhood policing and keeping a police presence in rural communities."
Mr Richards said most people visited a police station for a pre-planned appointment and the stations received few visitors outside of peak times.
The force said it was reviewing the location of its 36 police stations.
A spokesman said: "If there are cheaper and better alternatives available, larger and more expensive buildings should be considered seriously as options for sale.
"This would protect the smaller, more rural stations."
Mr Richards said he was looking at sharing front counter facilities with local councils or providing more services online.
Sussex Police Authority will discuss the proposals at a meeting on Thursday.