Visitors view Chichester Cathedral sculpture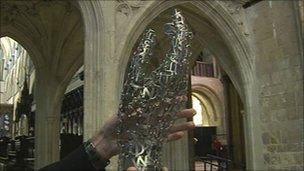 Visitors to Chichester Cathedral have been viewing plans for a new sculpture which it is hoped will be permanently suspended from the ceiling.
Spanish artist Jaume Plensa's work, called Together, was chosen after five artists were asked to compete for the Hussey Memorial Commission.
The piece is made of a transparent "cloud" of letters forming the hand of the resurrected Christ.
A model of the sculpture is on show inside the West Sussex cathedral.
The letters making up the hand are derived from alphabets including Latin, Greek, Hebrew, Cyrillic and Arabic.
Together beat ideas by artists Dorothy Cross, Antony Gormley, Ana Maria Pacheco and Mark Wallinger.
"We believe that Jaume Plensa has produced a work which will enable people to consider the wonder of God's love and inclusiveness and, as the piece suggests, togetherness, in the world of today," said Dean of Chichester, the Very Reverend Nicholas Frayling.
The cathedral's chapter hopes to be able to commission a 10ft (3m) version of the sculpture, to hang at the front of the nave.
The commission, launched in 2009, was timed to mark the centenary of the birth of former Dean of Chichester Walter Hussey, who commissioned many of the 20th Century artworks in the cathedral.
Funding will be sought from private trusts and donors.
It is not yet known how long it will be before installation of the full-size sculpture can take place.
Related Internet Links
The BBC is not responsible for the content of external sites.