Woman sentenced over East Sussex sham marriage case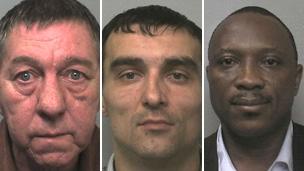 A woman who supplied false details for a marriage register has been given a 12 month conditional discharge.
Larisa Kuznecova, 28, of Anglesea Terrace, St Leonards-on-Sea, East Sussex, pleaded guilty to the charge at Lewes Crown Court last month.
She is the fourth person sentenced over sham marriages involving illegal immigrants at the Church of St Peter and St Paul, in St Leonards.
The Reverend Alex Brown and two other men were each jailed for four years.
Lewes Crown Court was told Brown conducted 360 sham marriages during a four-year period at the church to bypass immigration law.
Co-defendants Vladimir Buchak, 33, and solicitor and pastor Michael Adelasoye, 50, were also jailed for four years.
The trio were found guilty in July of conspiring to facilitate the commission of breaches of immigration laws.
Brown was also jailed for five months for solemnizing a marriage without the banns being published.
Related Internet Links
The BBC is not responsible for the content of external sites.