Council leader appeals for calm over fees protest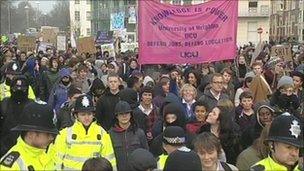 A council leader has called for students to act lawfully ahead of more planned protests over plans to raise tuition fees.
Mary Mears, the leader of Brighton and Hove City Council, said students should not direct anger towards council staff.
During a protest on 24 November, a group of protesters entered council buildings at Priory House in Bartholomew Square and the town hall.
About 150 students protested at the Clock Tower on Wednesday, police said.
Officers said protesters burnt an effigy of David Cameron and then began to leave.
Supt Steve Whitton said the demonstration did not affect transport, businesses or pedestrians.
He said organisers of further protests on Thursday had been urged to engage with police and keep disruption in the city to a minimum.
The students are opposing plans to increase tuition fees in England to up to £9,000 per year and to withdraw public funding for university teaching budgets for many subjects.
Before the protests on Wednesday, Councillor Mears said: "I fully support the students' democratic right to protest publicly.
"However, I am urging them to do this peacefully and within the boundaries of the law.
"I would urge demonstrators to remember that any decisions for student funding and university fees are taken nationally by Parliament, not by local politicians here in Brighton and Hove."
MPs are due to vote on plans to raise tuition fees in England on Thursday.
Related Internet Links
The BBC is not responsible for the content of external sites.