Brighton bus lanes split commuter opinion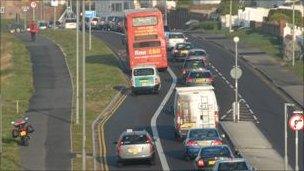 Bus lanes serving the east of Brighton have divided opinion among travellers.
Supporters say they have halved journey times and increased public-transport use, while opponents complain they have significantly increased traffic jams.
Some drivers want the lanes, on the A259 coast road between Peacehaven and the city centre, to be scrapped.
But the bus company says the scheme, introduced in October 2008, is a success that should be extended rather than abolished.
Feelings have intensified in the wake of additional hold-ups caused by the failure of crossing lights on the route, when motorists complain they are already enduring horrendous traffic jams while watching the occasional bus sail along the dedicated inside lane.
Motorists told BBC Sussex's breakfast programme journey times and frustration had escalated as a result of all but buses being squeezed into single lanes in and out of the city.
They argued the bus lanes were empty most of the time and did not represent value for money.
But Roger French, managing director of Brighton & Hove Bus Company, said the lanes had enticed motorists out of their cars and on to the buses, markedly reducing their travelling times.
He said if the bus lanes were withdrawn, public-transport journeys would take as long as all others, removing the incentive for people to switch to buses.
"No-one has forced it. People have willingly [switched to buses] because the bus service has increased by 50 per cent, journey time has reduced by 40 per cent and it has been a huge success."
Andrew Howard, of the AA, said bus lanes were effective if well planned, but could cause more problems for motorists.
"If they were thought out in the first place, making the buses go faster makes more people travel on buses... [and] means that they take the traffic away and everybody is happy because you can get to work as fast on the bus as you could in the car.
"At the other end of the scale is a completely different set of thoughts, which is you put in a bus lane, you remove the space that is available for cars, you make the cars crawl along at 5mph, and everybody gets out of the cars and gets on to the buses begrudgingly."
East Sussex County Council's director of transport, Rupert Clubb, rejected the idea of removing the bus lanes. "It just removes choice for people, he said.
"If we are saying let's try to use different forms of transport, it is a step in the wrong direction."
Related Internet Links
The BBC is not responsible for the content of external sites.