Arson probe into Eastbourne retail park fire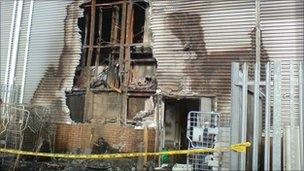 A fire at a retail park in Eastbourne that damaged three shops was started deliberately, fire crews believe.
More than 80 firefighters tackled the blaze at the Crumbles Retail Park, in Sovereign Harbour, which started at 2030 GMT on Saturday.
East Sussex Fire and Rescue Service said the fire started towards the rear of Boots.
Shoppers were evacuated from the Asda supermarket and Next clothes store but nobody was injured.
A spokesman for East Sussex Fire and Rescue Service said the fire was put out at 1400 GMT on Sunday.
He said: "An investigation has concluded that the fire is most likely to have been caused by a deliberate act."
A spokeswoman for Boots said the company was working closely with police and fire officers.
Det Insp Paul Phelps, of Sussex Police, said: "Four national businesses have all been badly damaged and at such a busy time of the year it will no doubt have a knock-on effect to the local economy."
Incident commander Chris Baker advised businesses to take precautions and reduce the risk of fire spreading.
He said: "It is also very important not to store rubbish against the shop and if bins are stored nearby to ensure rubbish is regularly cleared away, as fires involving this can easily penetrate into the building."
Related Internet Links
The BBC is not responsible for the content of external sites.