Sea eagle sighting sparks excitement in Sussex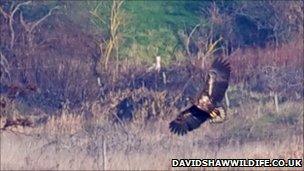 A rare sighting of the UK's largest bird of prey in Sussex has caused excitement among twitchers.
The white-tailed eagle, which has an 8ft (2.6m) wing span, was spotted at RSPB Amberley Wildbrooks on Saturday.
The RSPB said it was the first reported sighting of the bird in Sussex in nearly 50 years.
The charity thinks the juvenile eagle may have been forced south by the severe winter weather in Scandinavia or the Baltic.
White-tailed eagles were re-introduced in parts of Scotland from the 1970s after being hunted to extinction in the British Isles in the early part of the 19th Century. They are also know as sea eagles.
RSPB warden Peter Hughes said: "When I got a call on Saturday lunchtime from someone who said he was watching a white-tailed eagle at Amberley Wildbrooks, I'll admit I was a little sceptical at first.
"But fifteen minutes later I was there too, watching this magnificent bird."
He added: "The big fella spent most of Saturday afternoon and Sunday morning on the Amberley brooks, causing the local crows a great deal of worry and being admired by many local birders, before heading off west."
Related Internet Links
The BBC is not responsible for the content of external sites.