Thieves target community salt bags across West Sussex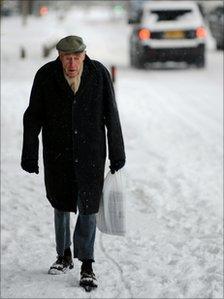 Bags of salt and grit which were meant to be used by the community have been disappearing in West Sussex.
During the last spell of severe weather, West Sussex County Council distributed nearly a thousand bags of salt and grit across the county.
But some of the salt has been removed and in some cases whole bags weighing more than 1.5 tonnes have disappeared.
Deputy council leader Lionel Barnard said the culprits were placing the vulnerable at risk.
Councillor Barnard, highways and transport spokesman, said: "We started the winter with a stockpile of 18,000 tonnes of salt, which is twice as much as last year, so we are in a good position to meet demand.
"But the programme will be undermined if large quantities of salt are taken without permission.
"Those responsible are stealing from other residents, robbing the taxpayer and are placing the vulnerable such as the elderly at greater risk."
He said the aim of the bags was to make grit and salt immediately available in public places such as shopping precincts, community centres, railway stations and bus stops.
The salt was for spreading after snow has been cleared, to prevent compacted ice from forming on roads and pavements and creating dangerous, slippery conditions, he added.
Locations for salt bags were identified by parish and district councils during a "snow summit" last winter.
Mr Barnard said the salt was not for use by individual householders and he urged people to report anything suspicious to the police.
Related Internet Links
The BBC is not responsible for the content of external sites.