Disruption at Gatwick continues as passengers stranded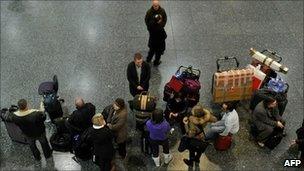 Passengers hoping to fly from Gatwick are being urged to check with airlines before setting out as the disruption to flights after heavy snow continues.
The airport said operations were gradually returning to normal but delays and cancellations were likely.
Thousands of travellers trying to get away for the Christmas break were stranded at Gatwick overnight.
A spokeswoman said: "We are doing everything we can to get passengers on their way and aircraft in the air."
British Airways added that many of its aircraft and crew were in the wrong place following the disruption on Saturday when the runway had to be closed for several hours.
Meanwhile, snow and ice have been causing problems for motorists and rail passengers in Sussex.
The Met Office issued a severe ice warning for the South East earlier, prompting the Highways Agency to advise drivers not to travel unless necessary.
Southern and Southeastern have been running normal Sunday rail services, but with some cancellations.
Sarah Boundy, from Southeastern, said: "There will still be disruption because you can't have a day like yesterday and it not affect the next day's service.
"We do really try overnight to get trains to the right depots - they need maintenance, they need to be cleaned.
"Ice can cause damage to the undercarriages of our trains as well so what that will mean today is some trains that are usually eight carriages long, might be running as six or four," she said.
Related Internet Links
The BBC is not responsible for the content of external sites.