Two Sussex councils share services to save cash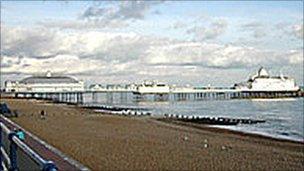 Two councils in Sussex are considering sharing some services in an effort to save money.
Eastbourne Borough Council said a partnership with Wealden District Council could deliver significant savings for both authorities.
Under the scheme, the councils would share one building control department.
The area of building control covers administering regulations, health and safety, access for disabled people, and dealing with dangerous buildings.
Eastbourne's cabinet has agreed to explore the partnership scheme further.
Eastbourne councillor Steve Wallis, environment and economy spokesman, said: "The nature of building control work means officers spend a great deal of time on site, rather than in one office.
"It therefore made absolute sense to explore a partnership with our neighbouring authority."
He said Eastbourne stood to save up to £180,000 over five years.
Wealden council would take the lead on management and employment issues.
A joint partnership board would be created by both councils to oversee how the partnership worked.
Mr Wallis said: "It is incumbent on every local authority to challenge the old ways of delivering services."
He added: "Public spending is being squeezed like never before and we have to respond by making the best use of the resources we have."
Related Internet Links
The BBC is not responsible for the content of external sites.