Lewes MP Norman Baker taped over BSkyB takeover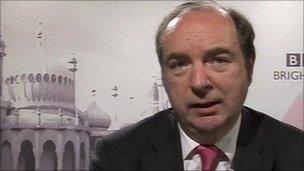 The Liberal Democrat transport minister has been secretly taped talking about his party's role in creating obstacles to the BSkyB takeover.
The Daily Telegraph quotes Norman Baker telling undercover reporters: "We've referred it and that's another thing - the Tories are furious, you know."
The Lewes MP believes he was targeted by the same journalists that recorded Business Secretary Vince Cable.
Mr Baker said a couple came to him with a "sob story" about child benefit.
He told BBC Sussex he suspected the pair claiming they lived in Seaford, East Sussex were the undercover reporters.
He said: "The couple, those I'm thinking about, they came in with an address that stacked up, they came up with a sob story about mother and child benefit.
"I imagine that's what they've done with other MPs to generate a sympathetic response so they can then pursue the Daily Telegraph's goal of destroying the coalition."
The Telegraph also taped Mr Cable saying he had "declared war" on Rupert Murdoch, whose News Corporation wants to take control of satellite broadcaster BSkyB.
'Here you are Mr Murdoch'
After his comments were made public on Tuesday, Mr Cable was stripped of his powers to rule on Mr Murdoch's bid but kept his cabinet post.
The paper reports him saying: "We've stopped Murdoch taking over BSkyB, or referred it to the competition authorities.
"That would have never happened under the Tories. They would have just said: 'Here you are Mr Murdoch, how much do you want?'"
The Telegraph also secretly recorded Scottish Secretary Michael Moore, Business Minister Ed Davey and Pensions Minister Steve Webb criticising a number of government policies.