Sussex councillors vote to cut allowances by 5%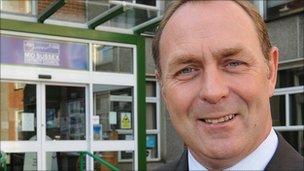 Councillors in Sussex have agreed to reduce their allowances as part of a wider drive to cut costs.
Mid Sussex District Council has also voted to reduce the payments made to councillors who sit on committees in a bid to save £32,000 a year.
Last month, the council agreed to save £162,000 a year by reducing the salaries of its senior management.
Garry Wall, the council leader, said the Town Hall would be "leading from the front" in the drive to save money.
He said: "This shows how seriously we are taking the need to reduce costs as part of the overall package needed to protect the priority services we deliver to our residents."
The Conservative-run local authority has described the cuts to its core central government grant announced by Communities Secretary Eric Pickles as "unprecedented".
It said it faces a 16.8% reduction in its budget next year, the equivalent of almost £1m.
Related Internet Links
The BBC is not responsible for the content of external sites.