Sussex ambulance crash death results remain private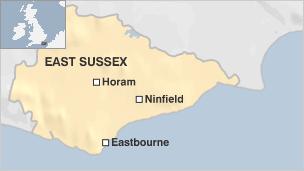 A coroner is refusing to reveal the preliminary post-mortem test results on a man who died in an ambulance driven by a police officer in East Sussex.
Daniel Martin, 31, from Horam, was hurt in an accident in Herstmonceux on 17 December and died when the ambulance taking him to hospital also crashed.
A pathology report has been submitted to coroner Alan Craze, but he will not disclose the results pending a full report and talks with the family.
Sussex police are holding an inquiry.
Police say the ambulance which attended the original accident was being driven by a police officer so that Mr Martin could be treated for life-threatening injuries by both ambulance crew.
They said it was unusual but not unprecedented.
The ambulance came off a country road in Ninfield, en route to Eastbourne District General Hospital, and careered into a bush.
Mr Martin died at the scene, and one of the ambulance crew was taken to hospital with minor injuries.
A forensic pathologist carried out a post-mortem examination on Mr Martin's body on Wednesday and submitted his preliminary findings to the coroner.
Sussex police said Mr Craze had "decided that there should be no public or media disclosure in relation to it until the pathologist's final report is received in the New Year, together with toxiciology tests which have yet to be carried out".
They added that those findings would then be discussed with Mr Martin's family before any media statement was issued.
A police spokesman told the BBC: "The coroner has made that decision because he does not feel he can comment until he knows the rest of the results."
Mr Martin's Mini had collided head-on with a flat-bed Highways vehicle on the A271 at Boreham Street. The second accident happened on Standard Hill, Ninfield.
The 36-year-old lorry driver, from St Leonards-on-Sea, East Sussex, was arrested on suspicion of dangerous driving and bailed until 17 February pending further inquiries.
Sussex police referred the incident to the Independent Police Complaints Commission, which referred the case back to the police to investigate.
Related Internet Links
The BBC is not responsible for the content of external sites.