Scheme to renovate Buchan Country Park pond dam wall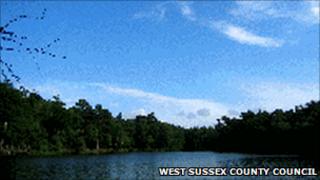 A £63,000 scheme to repair parts of a dam wall at a country park in West Sussex is getting under way this week.
The renovation of the wall around Douster pond at Buchan Country Park is expected to take six weeks to complete.
The park, near Crawley, boasts 170 acres of woodland, heath and meadow, with a large variety of wildlife.
The site is of national importance for its dragonfly populations and in 1985 the lakes and surrounds were designated a Site of Special Scientific Interest.
In 2000, a panel of experts considered the remainder of the site so good that the park was designated a Site of Nature Conservation Importance.
It is owned and managed by West Sussex County Council.