Dog stolen as owner tends dying wife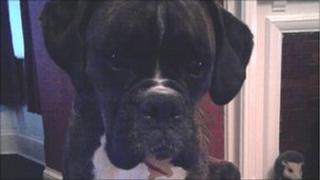 A man whose dog was stolen from kennels in Sussex while he visited his dying wife has been reunited with his pet.
Phoebe, a four-year-old boxer, was taken from Whitelands Kennels in Westfield, near Hastings, on Tuesday, just days after John Sherman's wife, Louise, died in hospital.
Police recovered the dog - and arrested a man - following a tip-off and Mr Sherman was reunited with his pet.
Mr Sherman had left Phoebe in kennels so he could spend time with his wife.
His daughter-in-law, Michelle Johnson, notified the media - including BBC Sussex's radio station - after Phoebe disappeared.
Within hours, police called her to say she had been found safe and well.
Mrs Johnson said: "It's brilliant. I still can't believe it. I didn't think we would see her again."
Mrs Sherman, who had cancer, died on New Year's Eve, but four days later kennel staff told Mr Sherman, who is from St Leonards, that Phoebe had been taken.
Mrs Johnson said: "We felt it would be good for him to get back into a routine with Phoebe and have a reason to get up.
"He was having a bad day today until the police phoned me. I called him and he was shocked, but absolutely over the moon."
Sussex police said: "An 18-year-old local man was arrested shortly after 1pm today (6 January) on suspicion of burglary following information given to police. He is currently in police custody."