Level crossing red light warning over Littlehaven crash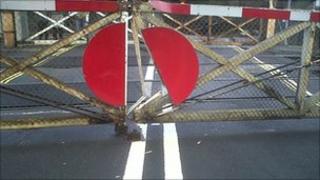 Drivers have been urged not to jump red lights at level crossings after a vehicle crashed into a gate near a railway station in Horsham.
The road was closed for 10 hours and trains were disrupted after the crash near Littlehaven station on Saturday.
Network Rail said a vehicle passed through level crossing red lights and hit a gate while it was closing.
British Transport Police said a 50-year-old man from Horsham was arrested and bailed until March.
A spokesman for Network Rail said: "Jumping lights and barriers at level crossings is not only dangerous, it can cause a huge amount of unnecessary disruption for passengers and motorists as was the case at Littlehaven on Saturday.
"We strongly urge people not to do it."