Brighton Marathon fails to attract big name sponsor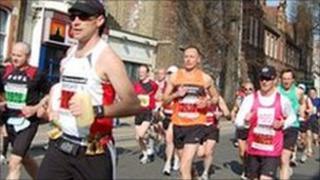 Organisers of one of the biggest events in Brighton's sporting calendar have revealed they have failed to get a big name sponsor for this year's event.
The Brighton Marathon, which takes place on 10 April, will have 15,000 runners, compared to 12,000 during the first staging of the race last year.
Race director Tim Hutchings said the poor economic climate had made it difficult to find a main sponsor.
He said entry money was enough to stage the event along with smaller sponsors.
"We depend on the entry money. It is enough to stage the event, it's just not enough to pay ourselves a decent profit at the end of the year," he said.
"The event is perfectly viable on just entry monies, but we want to do better than that, obviously.
"As a small, new company in Brighton we want to put on other events, and move forwards and move upwards with this event."
Mr Hutchings said he was confident about the future of the event, and organisers were hoping to get 20,000 runners next year.