Stephen Fry made honorary doctor at University of Sussex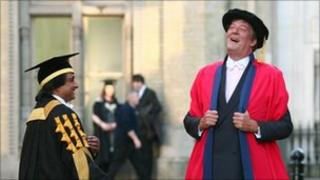 Actor and broadcaster Stephen Fry has been given an honorary doctorate at the University of Sussex.
He received the honour in recognition for his work campaigning for people with bipolar disorder, mental health problems and HIV.
Fry said he "couldn't be happier or prouder" about being made a doctor in front of 1,000 students.
He was given his honorary doctorate at a graduation ceremony at the Brighton Dome.
Fry was welcomed by comedian and actor Sanjeev Bhaskar, who is also the Chancellor at the University of Sussex.
Others getting postgraduate qualifications included Professor David Clary, chief scientific adviser to the Foreign and Commonwealth Office, who was made a doctor of science.
'Enormous achievements'
Kathy Walker, who is profoundly deaf, received a postgraduate certificate of education (PGCE) to teach maths.
Geoffrey Whitfield, 77, who spent a lifetime promoting peace through sport, graduated with a master's in conflict studies.
University vice-chancellor Professor Michael Farthing said: "The university is delighted to recognise the enormous achievements in both the arts and the sciences, as represented by Stephen Fry and Prof David Clary.
"We are equally proud that the Sussex name will be represented at home and in all parts of the world by our talented and high-achieving graduates."