Southlands Hospital to lose 120 in-patient beds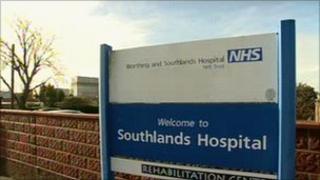 Health bosses have announced plans to close 120 beds at a West Sussex hospital and turn it into a centre for day surgery and out-patients.
Southlands Hospital in Shoreham would become an ambulatory care centre for patients not needing to stay overnight.
Orthopaedic surgery and in-patients elderly care would move to Worthing Hospital, which would get 60 more beds.
Western Sussex Hospitals NHS Trust said the changes would improve the quality and safety of its services.
A public consultation on the plans started on Monday and will run until 29 April.
The trust, which was formed in 2009 to run both Worthing and Southlands hospitals, said it was committed to keeping Southlands open.
It said it wanted to increase the range of day surgery and out-patient care provided there and would move eye services from Worthing to Southlands and St Richard's at Chichester.
As well as extra beds, Worthing is to get two new operating theatres to carry out orthopaedic surgery such as hip replacements.
The consultation document also said more beds and services would be provided in the community for people who need rehabilitation after a long spell in hospital.