Protests as East Sussex council cuts approved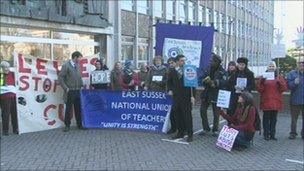 Unions protested outside East Sussex County Hall on Tuesday as the council met to approve £37m cuts next year.
Spending on children's services will be reduced by £20m, which the council blames on cuts in government grants and increases in child protection services.
It estimates 150 to 200 full-time equivalent jobs will go next year but unions say up to 400 people, including part-timers, will be affected.
The council has said it will focus its remaining resources on key services.
East Sussex National Union of Teachers (NUT) said it was likely the council would only be able to provide the minimum legal service in areas such as special educational needs and disability and behaviour support.
It said one effect would be to leave more students at risk of exclusion from school.
Youth clubs and children's centres are also at risk of closure, it said.
A public meeting against the cuts was held in Lewes on Monday night and councillors were lobbied on their way into the full council meeting on Tuesday.
Following the government's spending review in the autumn, the council said it would need to save a total of £100m over four years.
However, proposed cuts to social care for elderly people will not now go ahead after the Conservative-controlled council received an extra £6.9m from the government.
The council has said it will do all it can to reduce the need for compulsory redundancies.
Related Internet Links
The BBC is not responsible for the content of external sites.