Lewes council challenges government over national park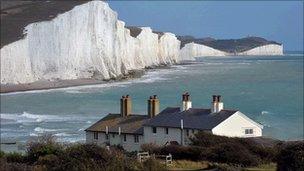 A Sussex council has challenged its government grant and could get an extra cash boost of £420,000.
Lewes District Council made the challenge over the funding for setting up the South Downs National Park.
Council leader Ann De Vecchi said the national park was good for the area but local councils should not fund its setting-up costs.
She said the council proved the grant calculation was wrong. The decision still has to be ratified in parliament.
"The good news is that the minister took account of one aspect of our technical challenge in relation to grant adjustments arising from setting up the national park," she said.
"The grant settlement acknowledged the principle that the planning policy function does not transfer from the local authority.
"It is an important point and gives all councils in the park area a better deal."
She also said the decision would help Liberal Democrat-run Lewes council rebalance its books over the next two financial years.
A debate is due to be held in parliament on Wednesday.
In March 2009, the South Downs area was given national park status almost 60 years to the day after it was recommended.
The South Downs, which covers parts of Sussex and Hampshire, had been identified for national park status in the 1940s.
Last April, the South Downs National Park Authority, which has a £7.29m budget, began work to prepare to take on full statutory powers and functions from 2011.
The new body is funded by central government and employs about 60 to 70 staff.
Related Internet Links
The BBC is not responsible for the content of external sites.