Sharing services 'will help' East Sussex council cuts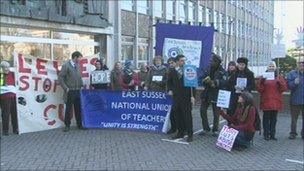 An initiative between councils to share expertise and some services will help to meet the savings set by East Sussex County Council, its leader has said.
On Tuesday, the authority agreed a plan to make £100m of savings over the next four years.
Councillor Peter Jones said the council had joined six other big councils across the South East to form SE7.
He said he was confident the initiative would help to save millions of pounds towards the set target.
East Sussex County Council, Brighton and Hove City Council, Hampshire County Council, Kent County Council, Medway Council, Surrey County Council and West Sussex County Council make up SE7.
All seven councils have signed a Memorandum of Understanding with the aim of achieving potentially massive savings while improving the quality of local services.
By working together through joint contracts and sharing information, skills and resources the South East authorities will actively seek opportunities to reduce costs and improve services.
At the full council meeting, East Sussex County Council approved plans to save £37m in the first year, including £20m from children's services.
It estimates 150 to 200 full-time equivalent jobs will go next year.
Mr Jones said in order to cut costs, the council would have to stop some services and provide other services in a different way.
"We're in for a bumpy ride but we've been planning for these cuts for nearly two years and I want to reassure our residents that this council is in a very strong position to manage through these tough financial times," he said.
Related Internet Links
The BBC is not responsible for the content of external sites.