Torpedo pulled clear of cross-Channel shipping lane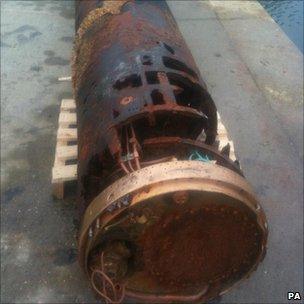 A 20ft (6m) torpedo believed to have come from a wreck was found floating close to a busy cross-Channel shipping lane, lifeboat officials have said.
Fisherman Peter Storey spotted the device five miles (8km) off Beachy Head, near Eastbourne in East Sussex.
Officials at Dover Coastguard and the Royal Navy's bomb disposal team were alerted on Tuesday afternoon.
Bomb disposal experts later confirmed the device's explosive charge had corroded and it posed no risk.
Mark Sawyer, a coxswain with Eastbourne RNLI, said it was confirmed as a British Mk 9 device which had a stamp stating it was last checked and tested in 1955.
He said: "The main concern of the fisherman was that it was close to the Newhaven to Dieppe ferry route.
"He was worried it could go off and posed a hazard to navigation.
"He realised it was some sort of explosive but it was found that the explosive charge had corroded off and the rest of it had floated to the surface."
Mr Storey placed a rope around the torpedo and brought it closer to shore before anchoring his boat near Sovereign Harbour in Eastbourne.
Bomb disposal experts arrived at around 0700 GMT on Wednesday to confirm it posed no risk and they later brought it into the harbour.
Mr Sawyer added: "The bomb disposal team believe it was some sort of training torpedo.
"The people at Sovereign Harbour were quite keen to stress that it was safe when it was brought in."
Related Internet Links
The BBC is not responsible for the content of external sites.