West Sussex County Council set to lose 1,300 posts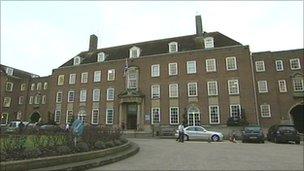 Up to 1,300 jobs are to be axed at West Sussex County Council as the authority aims to save £79m by 2014.
The Conservative-run authority said about 500 posts would go and a further 800 could be transferred to employment with other service providers.
Council leader Louise Goldsmith said making the decision was "the worst times for all of us".
The council currently employs 6,300 people, excluding staff in schools.
The job losses will be made over three years, taking the workforce down to 5,000.
Unison West Sussex branch secretary Chris Earwaker said it was a worrying time for all affected employees.
She said: "From the point of view of redundancies, we are hopeful that a significant proportion will be generated by people who want to go voluntarily.
"But what that will leave behind could cause problems in terms of a significantly reduced workforce and stress and pressure on those left behind."
The authority is aiming to save about £37m in the next financial year, with £14m to be cut from the budget for adult social care.
The council has said a substantial amount of savings would come from reducing bureaucracy by 30% next year and working more efficiently.
Last month, West Sussex councillor Michael Brown, cabinet member for finance said: "This is a budget that does protect the most vulnerable.
"There will be investment in children's services and we are also committed to maintaining our road network and dealing with potholes."
Councillors were meeting on Friday to set the budget for next year.
Related Internet Links
The BBC is not responsible for the content of external sites.