Friends support blast photographer Giles Duley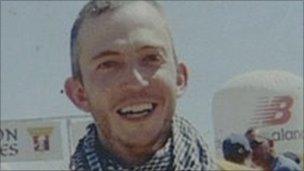 Friends of a photographer who was seriously injured in a bomb blast in Afghanistan have paid tribute to his strength of character.
Giles Duley, 39, who lives in Hastings, was embedded with US troops in Kandahar when the bomb exploded on 7 February.
He had several amputations in a UN hospital before he returned to the UK.
Sue Stoten said: "We are completely devastated but I know he is full of strength and character and self-esteem and he will come back."
Mr Duley is now undergoing treatment in the critical care unit at The Queen Elizabeth Hospital in Birmingham.
He spent 10 years working as an editorial photographer in the fashion and music industries in both the US and Europe, but his work now focuses on humanitarian projects.
He has worked with Medecins sans Frontieres, as well as a host of other charities.
The freelancer also worked with the Camera Press agency in London.
Katharine Wallinger, a friend of Mr Duley, said: "If anyone can get through this and turn it into something positive he's the guy that can do it."
Related Internet Links
The BBC is not responsible for the content of external sites.