A24 improvement scheme 'not cost effective'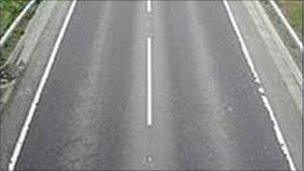 Campaigners seeking to improve an accident blackspot on a busy West Sussex road have said the withdrawal of government funding is disappointing.
Over the past four years there have been nearly 70 accidents on the A24 between Ashington and Southwater.
However, the Department for Transport said improvements would not be funded as the scheme was not cost effective.
Paul Watters, of the AA, said it was "a sad reflection" on the use of motoring taxes that it could not be afforded.
Most of the accidents between Ashington and Southwater have happened at the gaps in the central reservation where cars cross the opposite lane to turn into junctions.
Two of the accidents were fatal.
West Sussex County Council had wanted to build flyovers at three points in the road at the cost of £32m, and close 28 gaps in the carriageway.
Mr Watters said the scheme would have cut accidents on the road by about a third.
But the A24 Alliance, which had objected to the scheme on the basis that it would have turned the A24 into a "super highway", welcomed the government decision, saying if the roadworks had been approved, accidents would have been more severe due to increased speeds.
In a statement, it said: "We are in favour of road safety, but the massively expensive scheme for the A24 that the government rejected was little to do with safety.
"It was mostly about the county council trying to build a motorway-style road from Worthing to the M25 - what we've called the 'M24 super highway'.
"If it had just been about road safety it would have cost nothing like the money that's been talked about, it would have cost hundreds of thousands of pounds not the multi-millions asked for."
Lionel Barnard, deputy leader of Conservative-controlled West Sussex County Council, said other options for the road were now being considered, including average speed cameras, but essentially the gaps still needed to be closed.
Related Internet Links
The BBC is not responsible for the content of external sites.