Row over £1.1m cycle lane removal in Hove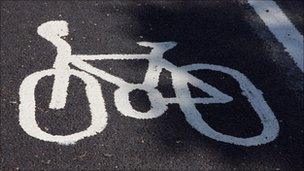 Plans to remove cycle lanes brought in three years ago in Hove have been criticised by Labour and Green Party councillors.
Under the £1.1m scheme, cycle lanes in Grand Avenue and The Drive would go.
Conservative-run Brighton and Hove City Council said the move, unveiled in budget proposals for 2011/12, was in response to local demand.
The council needs to save £82m over four years, with £24.2m savings to be found next year, and lose 250 posts.
Councillor Gill Mitchell, Labour group leader, said removing the cycle lanes was a "terrible waste of taxpayers' money at a time of unprecedented cuts".
She said it showed a Tory prejudice against cycling and a distaste for sustainable travel options.
Green Party transport spokesman, councillor Ian Davey, said the cycle lanes cost more than half a million pounds and the Conservative administration now planned to spend more than twice as much taking them out.
He claimed the council may also have to give back a £0.3m grant it received from the government to help pay for the cycle lanes.
The cycle lanes sparked complaints about road width reduction and visibility problems - but cyclists had welcomed the improved safety of the segregated lanes which could be used by families with children, he added.
"In times of austerity this proposal is grossly irresponsible," he said.
Both Labour and Green Party councillors have also criticised a plan to spend £4.5m on a revamp of car parks in the city.
A spokesman for Brighton and Hove City Council defended both the cycle lane removal and the car park revamp.
He said: "The proposal to remove existing cycle lanes is in response to local demand for this action and uses one-off money so it would only defer the implementation of savings - not replace them.
"The investment in car parks is a 'spend to save' initiative and therefore does not take away any resources for any other services.
"In fact, it generates a saving which is included in the proposed savings package of £57,000 after repaying the investment costs."
Brighton's budget plans for 2011/12 include a 1% council tax reduction, which will lead to the council receiving a government grant of about £3m.
Cost-cutting plans will lead to an overhaul of social care, and will also affect waste disposal and a leisure contract - but the council said savings would affect all departments.
A third of the jobs to be lost will go through natural wastage, a third through redeployment, and a third through voluntary redundancy, the authority has said.
Brighton council is made up of 25 Conservative, 13 Labour and 13 Green Party councillors, with one Liberal Democrat and one Independent member, and one vacant post.
Budget plans will be considered by the cabinet on Thursday and the full council on 3 March.
Related Internet Links
The BBC is not responsible for the content of external sites.