Bognor seafront watersports centre approved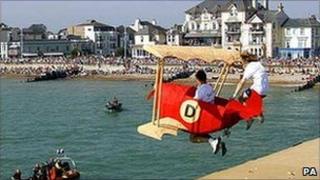 Plans to transform a Sussex seafront have been approved by Arun District Council.
The £4.5m watersports centre on the site of a car park is part of a wider project to regenerate Bognor.
The planned centre will include changing facilities, boat storage, a cafe and an artificial wave machine.
Dr David Cooper, from the University of Chichester, said: "There are lots of young people in the area and we need something for them to do."
"If we look at other areas where this has happened, we've seen increases in visitor numbers, reduction in social disorder, but also bringing in more money to the town."
Arun council said it had secured more then £540m of investment for Bognor's regeneration in the past four years.
Plans for the seaside town include a new hotel, multi-million-pound improvements to the Bognor campus of Chichester University, a new community college and a new supermarket.