West Sussex police divisions merge to cut costs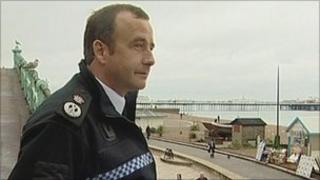 Two police divisions are to be merged as part of the Sussex force's bid to to save £52m by 2015.
Sussex Police said merging the North Downs and West Downs divisions to form one covering the whole of West Sussex will save £800,000 in management costs.
The merger, from 1 April, is one of a series of changes aimed at increasing efficiency and cutting bureaucracy.
Sussex Police announced plans to cut the jobs of 550 staff and 500 officers in September.
More than 300 employees are to leave by the end of March under its voluntary severance scheme.
The force has also said it is considering closing some police stations and reducing the opening hours of others as part of the cost-cutting measures.
Chief Supt Martin Walker, the new divisional commander for West Sussex said staff were also being consulted on a new policing model for merged division which could save another £2.5m per year.
Community policing
The model, already introduced in Brighton and Hove, has reduced response times to calls and paperwork, he said.
It would mean community policing would be carried out by neighbourhood police officers and PCSOs.
Other officers would concentrate on responding to emergency calls or investigate crimes.
"This new model would mean less bureaucracy for everyone, less paperwork for frontline officers and more opportunities for them to use their own discretion to do the right thing - for instance using community resolutions where appropriate," said Mr Walker.
"Crime across West Sussex has fallen by a quarter in the last five years and I believe that with this new model we can reduce it even further."
East Sussex is already covered by one merged division.