Lewes woman jailed for stab attack on elderly couple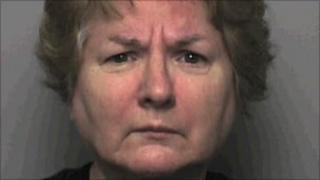 A former Rotary Club treasurer who stabbed two elderly neighbours during an attempt to rob their East Sussex home has been jailed for eight years.
Rose Spanswick, 60, took a knife from her kitchen and barged her way into James and Sheila Patmore's home in Lewes on 22 November last year.
Lewes Crown Court heard she thought it was a "good idea" because she knew them and knew the layout of their home.
Prosecutors said she had fallen into debt and needed money.
The Patmores were at home when Spanswick knocked on their door disguised in a balaclava, hooded top and wearing latex gloves.
'Strange grunting'
When Mrs Patmore answered, she was stabbed and hit repeatedly.
Her husband suffered superficial injuries when he intervened after being roused from an afternoon nap.
The court heard Spanswick did not say anything during the attack but made a "strange grunting sound".
When police arrived, Mr Patmore asked to see the intruder's face and recognised his neighbour from the Rotary Club.
Mr Patmore, 77, and his 74-year-old wife were taken to hospital covered in blood following the attack.
Spanswick had debt problems and no food in her house on the day of the attack.
Philip Wakeham, defending, said she was considered of "impeccable character" and had no previous convictions. He said it was "a downfall of quite epic proportions".
'Calculated and brutal'
Spanswick had admitted aggravated burglary and two counts of assault with intent to rob when she appeared at the same court last month.
Judge Anthony Scott-Gall jailed Spanswick for eight years on each count, to run concurrently.
The victims' son, Julian, said he thought Spanswick had carried out the attack in an attempt "to keep up appearances".
He said: "The Rose Spanswick that stood in court today will be unrecognisable to those who would claim to know her.
"Hubris and the desperate need to keep up appearances prevented her from asking for help to alleviate her worsening financial situation.
"It led her instead to try and cover up her plight by committing crimes so calculated and brutal that they could have ended the lives of two innocent and decent people."
Mr Patmore had been a former treasurer of the Rotary Club in East Sussex, a position later held by Spanswick until she stood down in 2009.