Chichester maisonette badly damaged in fire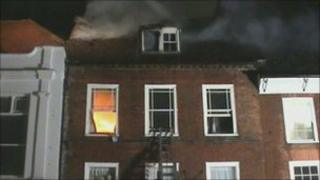 More than 50 firefighters from West Sussex and Hampshire have been battling a blaze in Chichester town centre.
Emergency services were called to the maisonette above the Fat Face store in East Street after being alerted by residents at about 2100 GMT on Friday.
Fire crews arrived to find the blaze spreading to the upper floors and roof of the building.
No-one was injured, but damage to the maisonette was described as substantial by West Sussex Fire and Rescue Service.
Smoke damage was caused to adjoining properties.
A total of 12 fire engines attended the scene and police and fire crews remained in East Street overnight. Red Cross volunteers supplied refreshments to the emergency services.
A fire service spokesman said the residents of the maisonette were alerted by a smoke alarm. The fire is thought to have been caused by an electrical fault.