Sussex care home fatal fire accused 'sought attention'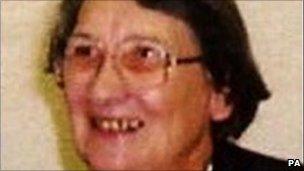 A care home worker accused of murdering a pensioner in an East Sussex nursing home fire started it "for attention and to act the heroine", a court has heard.
Irene Herring, 85, died after the fire in her room at Ancaster Court, Hastings Road, Bexhill, on 1 February 2009.
Rebecca Reasbeck, 20, of Upper Park Road, St Leonards, denies murder and also a charge of manslaughter.
Lewes Crown Court heard she was the only person who said she smelled smoke on the morning of the fire.
On the opening day of her trial, jurors were told Mrs Herring was bed-ridden and could not verbally communicate after suffering two strokes.
Prosecutor Anthony Haycroft said a nurse and a care assistant were first alerted to a fire in the home when they passed Ms Reasbeck in a top floor corridor coming from the direction of Mrs Herring's room at about 0945 GMT.
The laundry worker told them, just before smoke alarms went off, that she had noticed a plastic burning smell from the laundry room, two floors below.
Staff evacuated the building while Mario Chatto, who was the nurse in charge, and another nurse found the alarm system had been set off in Mrs Herring's room.
Mr Haycroft said another care assistant had returned upstairs and noticed Ms Reasbeck outside the room and about to enter it, but he advised her not to because of the fire.
When the firefighters arrived, at 0958 GMT, they had to use breathing apparatus to get Mrs Herring out.
She suffered severe smoke inhalation and died in hospital the next day.
Mr Haycroft told the court that fire investigators subsequently found that two separate fires had been set in the room.
A cushion from a commode chair in the room was found under the spare bed and burn marks on it were found to correspond to those on the commode seat.
The second, main fire was found to have started on an electric reclining chair in the room but further investigation found it to have no electrical faults that could have started it and it had not even been plugged in at the time.
The court heard that experts found no accelerant had been used and they had concluded that the fire had been started with a cigarette lighter.
He said that Ms Reasbeck, along with a few other members of staff, was a smoker, and none of the residents smoked or had access to lighters or matches.
He said she was also found to have lied to her family that she had rescued Mrs Herring and said that she herself needed hospital treatment after the fire.
Mr Haycroft said: "She wanted attention as a heroine in some way, and that's borne out by what she said to people afterwards."
The trial was adjourned until Wednesday when jurors will visit the nursing home.
Related Internet Links
The BBC is not responsible for the content of external sites.