Selsey £1.5m sea defence complete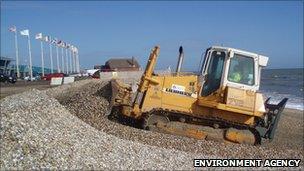 A £1.5m flood protection scheme on the West Sussex coast at Selsey has been completed.
Work to strengthen the sea wall and increase the height of the beach shingle started last year to protect a 0.6 mile (1km) stretch of West Beach.
Chichester District Council said that before work started, beach levels were critically low and the sea wall had been undermined in some places.
Part of the wall collapsed in 2007, putting homes at risk.
Chichester council was given £1.3m from the government and a further £200,000 from a national flood defence fund to carry out the work.
John Napper, vice-chairman of West Beach Selsey Residents Group, said the effect of the new shingle had already been noticed.
He said: "The beach recharge with new shingle has already had an immediate effect in reducing the energy of the waves at high tide, giving us an added sense of security, which we have not had for a substantial number of years.
"Previously, residents along this stretch experienced in their homes the vibrations from waves pounding the sea wall, but now this has stopped."
Related Internet Links
The BBC is not responsible for the content of external sites.