West Sussex health board among first under NHS changes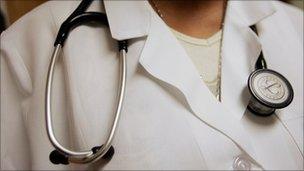 A health and wellbeing board is being set up a year early in West Sussex under government health changes.
West Sussex has been selected as an "early implementer" by the Department for Health, the county council said.
The boards are part of government changes to the NHS and have to be in place across England by April 2012.
The council said it would allow West Sussex to move "further and faster" on joint working between health, social care and public health bodies.
Announcing the early implementers, Care Services Minister Paul Burstow said the boards would remove divisions between the NHS and local authorities and give people a greater say in services.
Council leader Louise Goldsmith said: "We are well placed in West Sussex to meet the proposed health changes.
"Local authorities and the NHS have a strong history of working together in West Sussex. We already jointly commission many of our services together."
She added: "Establishing the board will allow us to move further and faster on the joint working between health, social care and public health for the benefit of residents."
The board covering West Sussex will meet for the first time in May.
Early actions include looking at priorities for West Sussex and reviewing plans on how to use £8.9m of social care funding.
It is expected to be formally established in April 2012.
Related Internet Links
The BBC is not responsible for the content of external sites.