Residents oppose Filching Quarry reopening plans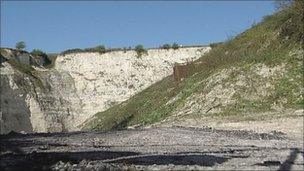 Residents of two East Sussex villages have formed an action group to oppose plans to reopen a disused quarry.
They believe minor roads in Filching and Jevington would be unsuitable for tipper trucks, which would import building materials to Filching Quarry.
Its owner, who wants to fully restore the quarry by September 2017, said it was listening to residents' concerns and would seek to minimise disruption.
East Sussex County Council said it was considering a planning application.
A spokesman said the consultation period was due to end on 6 May and the planning committee would consider the application in due course.
Haulaway, the quarry owner, wants planning permission to bring in 136,000 tonnes of inert soils every year to stabilise and restore the quarry.
The residents, however, want the quarry kept as it has been for the past 20 years - unworked and in a natural state.
Jasmine Gayton, of the Filching Landfill Action Group (Flag), said protected species and nesting birds were among wildlife that could potentially be lost if the quarry was reopened.
Related Internet Links
The BBC is not responsible for the content of external sites.