Row in Worthing over NHS nurses' parking tickets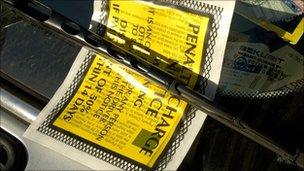 Scores of nurses have been handed parking tickets - after council officials accused them of misusing special permits.
People living near NHS buildings in Worthing complained that nurses were taking up residents' parking spaces.
Officials then launched a crackdown by issuing parking tickets to cars which were displaying the nurses' permits.
But nurses' union officials have accused the council of being too heavy handed.
Nurses who have to make home visits are issued with permits which allow them free parking in restricted areas for up to two hours, but not on yellow lines.
Worthing Borough Council said staff from Sussex Community NHS Trust were taking up residents' parking spaces.
In a statement, a council spokesman said the the permits were being used by staff to park for free outside their workplaces.
He said: "There has been no change to rules and all NHS staff are aware that the permits are only for use on domiciliary visits.
"The misuse identified in recent weeks has meant residents have been denied parking where large numbers of healthcare permits have been used to park outside NHS premises."
He said no appeal would be turned down if staff could prove they had been on a patient visit when the ticket was issued.
The union Unison said up to 60 employees had been given tickets in the past three weeks.
Branch secretary Peter Atkinson said: "The council claims the system is being abused, but our point is they are taking a sledgehammer to crack a nut.
"If they think the system is being abused, take the numbers of the cars they think are wrongly parked and follow that up, don't give absolutely everybody a ticket."
Andrew Harrington, the director of operations and clinical services at Sussex Community NHS Trust, said: "We have become aware that parking fines have become a problem for some community health staff.
"We are currently working with our staff and our colleagues in the local authority to resolve any issues."
Related Internet Links
The BBC is not responsible for the content of external sites.