Brighton dog rescue sea death accidental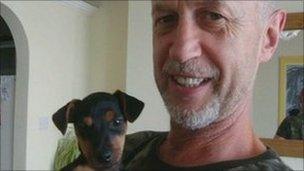 The death of a man who went into rough seas to rescue his dog was an accident, a coroner has ruled.
Kevin Reynolds, 52, was walking his two Jack Russells when he lost them off Brighton seafront on 8 January.
He and his 13-year-old daughter Grace went in the sea and were rescued. Mr Reynolds was airlifted to hospital but was pronounced dead from drowning.
He was dragged out to sea and submerged by waves of up to 9.8ft (3m) high, the inquest in Brighton heard.
Brighton County Court heard from witness Mark Briscoe who rescued Grace, risking his own life.
He saw Mr Reynolds, a heating and plumbing engineer, retrieve one of the dogs and pass it to his daughter before going back in the sea.
Another witness Zena Clare said: "The waves were huge so it would have been very difficult even with a floatation aid."
Ms Clare added: "I was very upset that it took a long time for the lifeboat to arrive. I remember myself and other people saying 'where is it? where is it coming from?'."
Mark Bell, helmsman of the RNLI boat, said the crew responded quickly.
He told the inquest he was paged at 1216 GMT and Mr Reynolds was pulled out of the water at 1257 GMT. Sussex Police received a 999 call at 1215 GMT.
Mr Bell said an incoming high tide, an onshore wind and cold temperatures made conditions particularly dangerous.
Assistant deputy coroner Dr Karen Henderson said: "The decision to enter the water to try to rescue the dogs was very much an instantaneous, spur of the moment decision."
She said there would have been a double tragedy if Mr Briscoe had not rescued Grace.
Dr Henderson said there had been good evidence to show that the emergency response was timely, and she commended Mr Bell and the lifeboat crew for risking their lives.
She added: "Although it is precious little comfort, Mr Reynolds would not have known anything about it.
"Although the conditions were terrible, he tried to do his best and for that he paid with his life."
The coroner also said she would speak to relevant authorities including the council and coastguard about whether more life vests were needed on the shoreline.
Related Internet Links
The BBC is not responsible for the content of external sites.