Sussex care home fire murder accused takes stand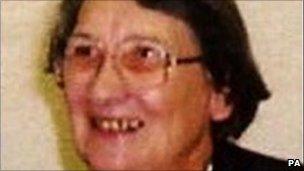 A care worker accused of starting a fire that killed a pensioner has broken down in tears in the witness box under cross-examination at Lewes Crown Court.
Irene Herring, 85, died after the fire in her room at Ancaster Court, Hastings Road, Bexhill, on 1 February 2009.
Rebecca Reasbeck, 20, of Upper Park Road, St Leonards, denies murder and a separate charge of manslaughter.
Jurors heard she was the only person who said she smelled smoke on the morning of the fire at the Sussex home.
It is claimed she started two fires in the bedroom of the pensioner who was bed-ridden and could not speak after suffering two strokes.
Mrs Herring, who died from severe smoke inhalation, had lived alone in the top floor of Ancaster Court Nursing Home for three years.
Cross-examining, Anthony Haycroft told the defendant: "You set the fire in Irene Herring's room in one or two places."
In tears, Ms Reasbeck replied: "No, I didn't do such a thing. You're not listening to me, I didn't do it."
Mr Haycroft continued: "You're guilty of setting the fire, aren't you Rebecca?"
She replied: "No, no. I'm not guilty of setting the fire."
The prosecution claims Ms Reasbeck started the fire "for attention and to act the heroine".
Defence counsel Simon Russell-Flint QC told the court there was no evidence to suggest Ms Reasbeck was an attention-seeker.
He also said she had an alibi and could not have been present when the fire was started.
Related Internet Links
The BBC is not responsible for the content of external sites.