Man to walk 65 miles in armour to royal wedding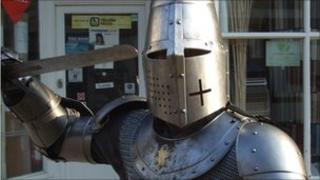 A Sussex man is planning to walk from Worthing to London in a suit of armour in time for the royal wedding.
Colin Bickers agreed to make the 65 mile journey in the five-stone suit (31.75kg) during a bet in a local pub.
He plans to leave on St George's Day and hopes to arrive in time to drop a red rose in front of the royal couple.
The 38-year-old hopes the six-day journey will raise money for Help the Heroes and the Chestnut Tree House Children's Hospice, near Arundel.
Mr Bickers said he had been dressing up as a knight on St George's Day for several years.
When his friends discovered he had booked a hotel in London for Prince William and Kate Middleton's wedding he was asked what he was going to do to celebrate it.
"Unfortunately, a couple of beers in the pub and a silly bet has resulted in this challenge going ahead," he said.
He has been training for two months, first starting with a vest and then adding bits of armour gradually.
Mr Bickers said there would be a live GPS feed of his location so he could be found all along the route.
He said: "[The armour] has to be made of steel thick enough to stop swords and things going through it so it's fairly hefty stuff.
"The whole suit has to be made to measure to stop the skin coming off when I'm walking along.
"It's good for keeping the sun out of your eyes but not good for seeing the road ahead. I cannot believe how they survived in battle wearing that."
He hopes to raise £2,500 and the armour will keep him safe on his journey.
"Dragons and other attackers will be severely dealt with," he said.