Bird strike forces emergency Thomson jet landing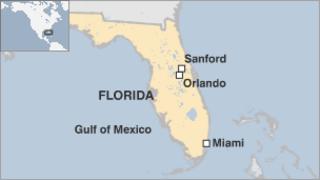 A Gatwick-bound plane had to make an emergency landing after a bird struck one of the aircraft's engines shortly after it took off from Florida.
Thomson Flight TOM033, carrying 254 people and 12 crew, was hit by the bird minutes after it left Sanford Airport at 1820 local time on Wednesday.
Passengers described hearing a loud bang and then smelling smoke inside the Boeing 767-300 plane.
Thomson said the pilot decided to return to Sanford and no-one was hurt.
Passengers are being provided with hotel accommodation while the aircraft is being checked over.
The flight had been due to arrive at Gatwick Airport at 0650 BST.
Reading-based BBC South reporter Joe Campbell was on the aircraft when the bird strike took place.
He said: "We had just taken off and there was a big bang, moments later the cabin filled with the smell of burning.
"The captain came on to the intercom and said there had been a bird strike and we would be returning to the airport."
Mr Campbell said they experienced a lot of turbulence as the plane flew back to Sanford and people became quite nervous.
He added: "It was quite tense. There was a guy sitting next to me who had a son and daughter and the 12-year-old was getting quite scared.
"As soon as we touched down there was some hard braking and we went straight to where all the fire crews were waiting."
'Safety top priority'
Mr Campbell said the captain told him the bird which struck the plane was an American bald eagle.
A spokeswoman for Thomson Airways said the aircraft landed 20 minutes after take off and no passengers were injured during the incident.
She added: "Shortly after take off, the aircraft, a Boeing 767-300, suffered a 'bird strike' into one of its engines and this resulted in the pilot deciding to return the aircraft into Sanford airport.
"Customers onboard this flight are currently being provided with welfare at Sanford airport while an assessment of the aircraft is conducted.
"Thomson Airways will be conducting an in-depth and thorough investigation into this incident.
"We maintain our aircraft to the highest standards within the aviation industry. The safety and welfare of our passengers is Thomson Airways' top priority."
The remains of the bird, which were retrieved from the plane's left side engine will be sent to the Smithsonian Institution to allow experts to verify the species.