Brighton Pride tickets sold for first time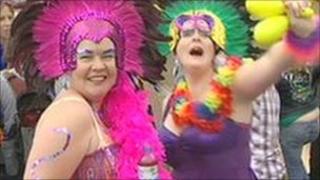 Revellers wanting to take part in this year's Pride in Brighton and Hove will have to pay for the first time in the event's history.
The main part of the festival, to take place at Preston Park on Saturday 13 August, is to be fenced and ticketed to help cope with its growing popularity.
The first tickets went on sale to Sussex residents at 0900 BST.
Organisers said the city council and licensing authorities had forced the move before granting a licence.
The remaining tickets, costing £12.50, go on general release on Thursday 12 May.
The capacity of the fenced venue within the park will be 53,000.
Last year's event came under fire from officials and emergency services because of overcrowding problems and the large amounts of rubbish and broken glass left behind.
Sussex Police said if the situation was allowed to continue, it could lead to the withdrawal of the event's licence.
The week-long festival will also include the annual parade from Madeira Drive to Preston Park. The ticketed event will feature live music and a fun fair.
Last summer's Brighton Pride celebration, which began in the city as a gay protest in the early 1970s, was the biggest in its 18-year history, with more than 160,000 people taking part in the free event.