Brighton's alternative history explored in fringe tour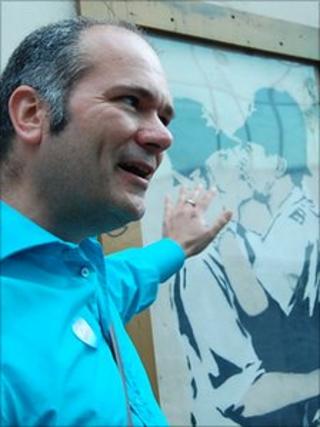 For a small city Brighton has consistently punched above its weight.
Home to Banksy street art and a thriving gay and lesbian community, it is the birth place of The Body Shop and also a Portuguese revolution.
One of many attractions is the Brighton Festival Fringe in May, which is one of the biggest cultural festivals in the world.
During the fringe a walking tour, which delves into Brighton's more alternative history, will be running.
Organised by Ric Morris, who is an associate lecturer at the University of Surrey, in Guildford, the Only In Brighton tour winds around the city's streets.
It takes in street artist Banksy's famous kissing policemen alongside Brighton's regency history and the Royal Pavilion.
It shows where the founder of The Body Shop, Anita Roddick, opened her first store in Kensington Gardens and decided to use the now trademark dark green paint to cover up watermarks on the walls.
Abba also began their journey to stardom in Brighton, after performing Waterloo at the Eurovision song contest in 1974 in the Dome.
On the same night a secret message in the Portuguese entry helped to launch the Carnation Revolution, where a coup deposed the country's authoritarian rulers.
"Brighton is not entirely England, it's sleazy and cutting edge," said Mr Morris.
"It's uniquely positioned between London, one of the most important cities in the world, and the limitless blue horizon."
A cultural fringe has always run alongside the main Brighton Festival since its inception in 1967, but became a company in its own right in 2006.
It is now the largest open access arts festival in England with more than 675 events.