Hastings Pier arson suspects to face no charges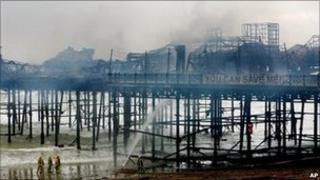 Charges will not be brought against either of the two men arrested when a fire destroyed Hastings Pier.
The Crown Prosecution Service said there was evidence the 19-year-olds were on the pier when the fire started, but no proof as to who caused it.
Last year's blaze took four days to put out and destroyed 95% of the upper part of the East Sussex pier.
The CPS said it was "disappointed" but that the case could be reopened if police received any new information.
'No admissible evidence'
Tim Thompson, head of its Brighton Trials Unit, added: "We have no admissible evidence to show which of the two suspects might have been responsible.
"We cannot prosecute on the basis that one or other of the two suspects might have been responsible; we can only prosecute where there is enough evidence against an individual."
The men, both aged 19, from St Leonards, were arrested on suspicion of arson by Sussex Police shortly after the fire broke out on 5 October.
Mr Thompson said the type of structure and extent of the fire made it a "particularly difficult crime scene".
Campaigners bidding to rebuild the pier played host to officials from the Heritage Lottery fund last month. The Hastings Pier and White Rock Trust says it needs £8.7m for the project.
It also plans to sell sponsored wooden planks to raise funds and has already unveiled the architects firm which will design the new look pier.