Fire wrecks Brighton seafront chip shop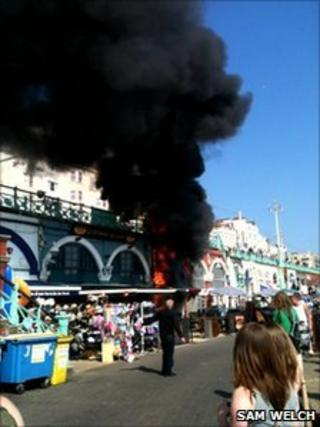 A chip shop on Brighton seafront has been severely damaged in a fire.
About 40 firefighters tackled the blaze at the Beach Break Cafe at the Kings Road Arches on Thursday afternoon.
Customers had been in the cafe when the fire broke out at about 1530 BST. The Umi Hotel on the seafront also had to be evacuated because of the smoke from the blaze.
The usually busy A259 was closed for a time while engineers ensured there had been no structural damage to the road.
Sussex Police said no-one had been injured in the fire.
One customer who was in the shop when it started said: "We were sitting there having our fish and chips and all this smoke started coming out of the fan at the top and the next thing there were flames coming out.
"The fire brigade turned up within minutes and the flames were just billowing out."