Two men jump from burning yacht off coast of Brighton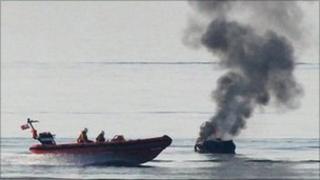 Two men have been rescued after a yacht caught fire off the coast of Brighton.
Witnesses said they heard a loud bang then saw the eight-metre long vessel engulfed in flames, to the east of Palace Pier, at about 0700 BST.
The two-man crew jumped into the water and were rescued by a boat nearby before lifeboat crews arrived on the scene. No-one was injured.
Coastguards said the yacht was allowed to burn out, and eventually sank. It is thought the fire started in the engine.