Man flees Portslade cannabis factory fire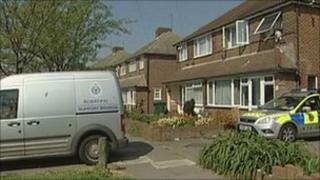 A man who fled a house fire in Sussex as a cannabis factory was discovered by firefighters is being sought by police.
Fire crews were called to the property in Old Shoreham Road, Portslade, on Friday afternoon by neighbours who had seen smoke coming from a window.
When they entered the two-storey house they discovered a cannabis factory with about 400 plants being cultivated.
Insp David Robinson, of Sussex Police, said it appeared to have been "a well-organised factory".
"Numerous rooms have been set up with electronics and lamps, and it appears the loft space has been used for storage," he said.
"It does appear they were a well-organised group that knew what they were doing."
The man being sought was seen leaving the rear of the property as firefighters arrived.
An electrical fault is believed to have caused the fire.