Police car involved in Brighton road crash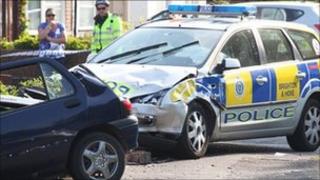 A police vehicle has been involved in a crash with a car in Brighton.
Police said the police car was being driven by a sergeant who was going to give emergency assistance to colleagues dealing with a disturbance in Hove.
Sussex Police could not confirm whether the police car had its blue lights or siren activated, but said the force was investigating the incident.
A woman who was driving the other car in Carden Avenue was taken to hospital as a precaution.
Officers said she had no obvious or visible injury.
The woman's daughter, who was also in the car, also went to hospital but was apparently uninjured.
Sussex Police said the police officer who was driving the police car and was the only person in the vehicle was shocked but unhurt after the crash just before 0730 BST on Tuesday.