Sussex's new cricket stand built but not yet opened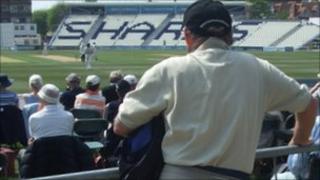 A new stand built at Sussex County Cricket Club was not open for the first game of the season - despite construction finishing.
The South West stand at the County Ground, in Hove, has a capacity of 1,700, but safety signs are not yet installed.
This resulted in the stand being empty when Sussex faced Lancashire in their first game of the County Championship.
Sussex chief executive Dave Brooks said the stand would open on 8 May.
"We're really excited to open the ground up today and the members and supporters can see what's going on," he said.
"The South West stand is fully erected but will not be open until 8 May, because we have to get all the safety signs up."
Construction began in September 2010 and as part of the £8m development, 96 exclusive seats have been added on top of the South Stand.
The pavilion has also been completely refurbished with the new Long Room and dining room now operational.
Mr Brooks said: "The old south west terrace never actually looked at the pitch, it looked more across the outfield.
"We're now focusing the stand in the right direction.
"It has an excellent elevation, the view from the top is absolutely fantastic and on those big Twenty20 nights, with 7,000 people under floodlights, it will create a wonderful atmosphere."