Father recalls final conversation with M23 death son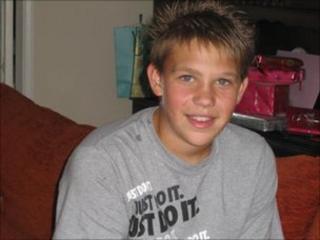 A father has recalled the final conversation he had with his teenage son before the boy ran off to his death on the M23 in West Sussex.
The inquest on Scott Turner, 15, heard his father Andrew had told him to stop drinking at a family wedding.
But his son replied: "Leave me alone Dad. You are always having a go at me."
Scott, of Burgess Hill, left the party in Crawley and was found on the M23 on 18 July last year. The coroner recorded a verdict of accidental death.
Mr Turner told the hearing in Horsham that his son had been drinking alcohol at the wedding reception of a cousin earlier in the evening.
'Reared up'
"He didn't appear drunk, to be honest, but he was merry," he said. "He wasn't falling over himself, but I did say to Scott, 'You've had enough, leave it there.'"
The inquest heard that Scott "reared up" at his father and stormed off.
The teenager's brother, Ben, tried to calm the situation, the court heard, but Scott told him to leave as well.
Mr Turner said he told his other son he was sure Scott would come back when he was ready.
"It was just one of those normal situations that you have with teenage kids. I expected him to come back and enjoy himself and go to bed."
But he added: "The next thing I know, I got a knock at about 3am to say what had happened to Scott."
Scott, who was wearing dark clothing on the hard shoulder of the M23, was spotted by a number of motorists. He had been struck by several vehicles, including a police car and ambulance.
Toxicology tests showed his blood-alcohol level was more than twice the legal drink-drive limit and he tested negative for drugs.
Coroner Chris Wilkinson said none of the drivers who ran over Scott could have avoided him as he lay in the road.
He said: "We have no evidence to suggest how or why Scott found himself on the M23.
"I can only surmise that faced with the possibility of trying to get home, maybe he would try to find some way home along the carriageway."