Arrests at anti-capitalist demonstration in Brighton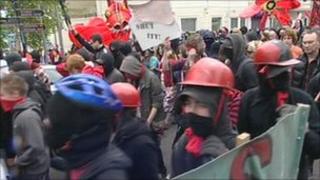 Five demonstrators taking part in a pre-May Day "street party and protest" in Brighton have been arrested.
Under the banner Brighton Mayday collective, about 150 people gathered in the city from midday.
Sussex Police said many of the demonstrators were wearing masks and appeared intent on causing disorder.
At 1600 BST, police said protests had died down in the city centre but some demonstrators had gathered on the beach.
The demonstrators first gathered near the West Pier on the seafront and made their way through Middle Street towards Ship Street.
In a news release, the organisers said the event brought together local groups including Brighton Anarchist Black Cross, Smash EDO, Squatter Networks of Brighton and Brighton Hunt Saboteurs.
It said May Day was a time to "stand up for workers' rights and resist oppression".
'Protect their identity'
Sussex Police said one person had been arrested in connection with "serious disorder" during a demonstration in central London last month.
Ch Supt Graham Bartlett said earlier: "We've got about 150 people who are in the city protesting.
"A large number of those seem intent on causing disorder and this does not seem to represent what I would describe as peaceful protest in any way
"That said, we have not had any damage or injures, albeit we have had to make about five arrests.
"It's regrettable that some of the demonstrators seem to be intent wearing masks, presumably to protect their identity, and again this does not seem to resonate with peaceful protest.
"Some of the people are breaking off in groups and running around the city."
Before the event, officers had called on the organisers to come forward and speak to them.
A similar May Day protest in the city two years ago led to a series of clashes between police and protesters.
The protesters announced the location at 1130 BST of the start of the protest on social networking sites.